9 Bathroom Design Ideas That'll Inspire Your Own Relaxing Oasis
A bathroom needs to be clean and tidy, but it doesn't have to be purely functional—especially if you appreciate a nice atmosphere for bubble baths or mirror selfies. Add a cozy chair or some proper window treatments, and you'll be amazed at how much it warms up the space (and improves your mood!). To spark some creativity in your own home, we've collected a slew of bathroom ideas to help you create an oasis for spa-level relaxation and style at home. Whether you're thinking of sprucing up the powder room and main bath, or you're embarking on a full-on ensuite renovation, we've laid out some major inspiration. Take design advice from the likes of Leanne Ford, Breegan Jane, and Toledo Geller to create a space that's inspiring and calming—you just might never leave the tub!
And if you're itching for info on the more technical stuff, we have you covered with bathroom renovation and remodel tips as well as tutorials like how to lay tile. You'll be able to enjoy a personalized bathroom design in no time!
1. 

Add Café Curtains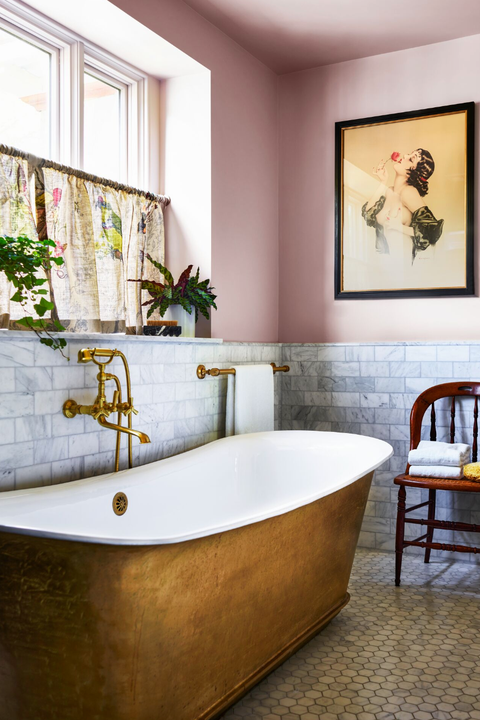 For a privacy solution that doesn't block out natural light, add café curtains to the windows as designer Cecilia Casagrande did in this Massachusetts home.
2. I

ncorporate a Curved Vanity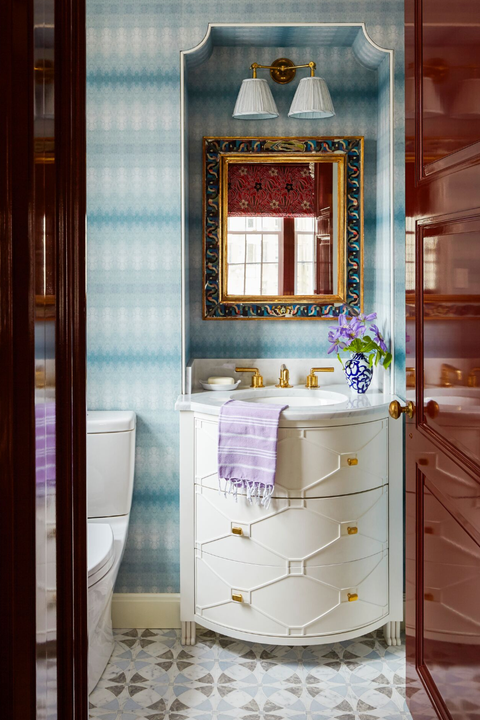 For a soft touch, designer Katie Ridder gave this powder room a custom curved vanity with moldings. A merlot lacquered door reflects the movement of the blue wallpaper for an overall enveloping atmosphere.
3. 

Mix Up the Scale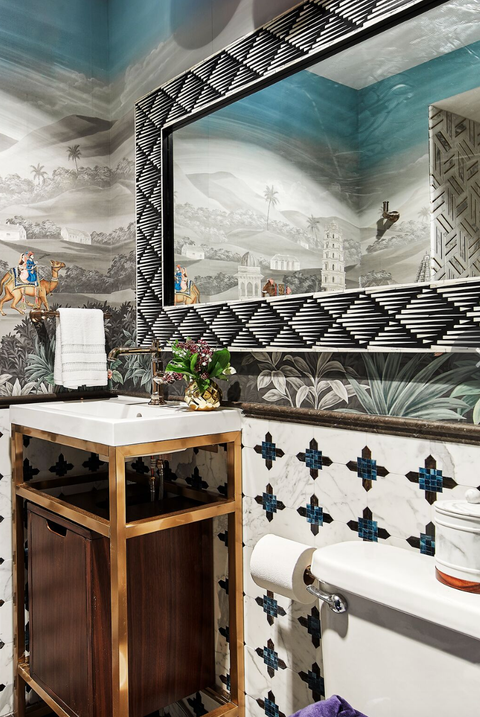 A small sink doesn't mean you're limited to a small mirror. In this bathroom, designer Rydhima Brar added a long, horizontal mirror above a corner sink and the neighboring toilet, which makes the room feel bigger.
4. 

Make It Subtly Art Inspired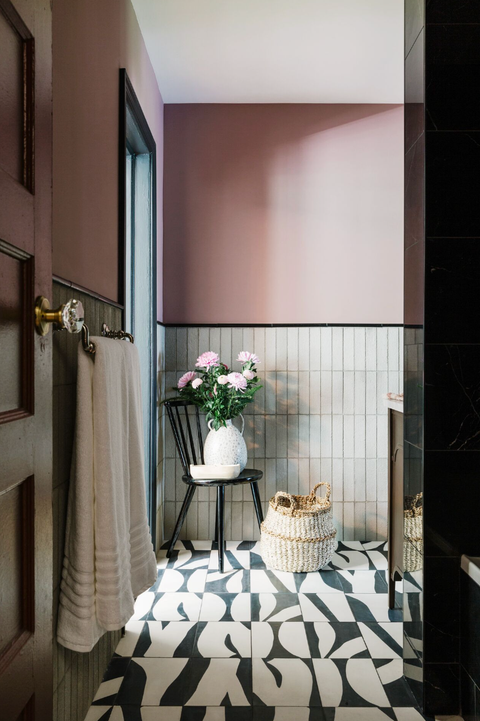 If you don't want to hang any wall art but want to make a statement, consider bold floor tiles. The black-and-white ones in this bathroom by designer Eneia White were inspired by the homeowner's love of art. "We found this floor tile to mimic something an artist might paint," the designer says.
5. 

Don't Overlook Sconces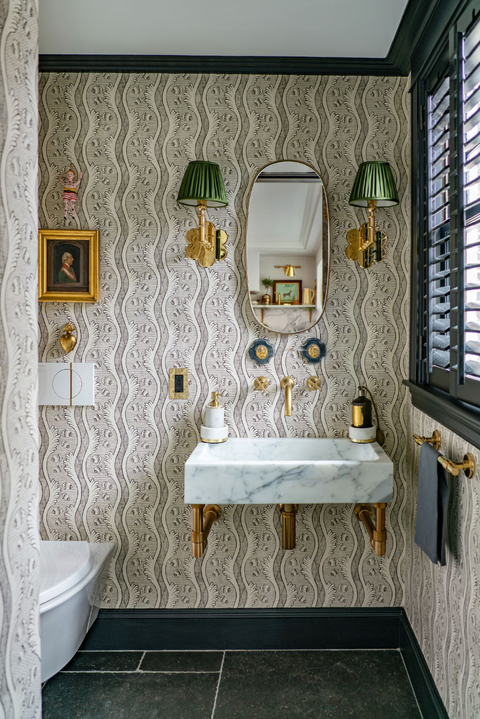 Sconces can instantly give a bathroom a cozy aura, not only in how they light the room but how they look. In this powder room, designer Liz Caan installed gold flower-inspired sconces with olive green lampshades for a whimsical yet elegant flare.
7. 

Make It Double as a Library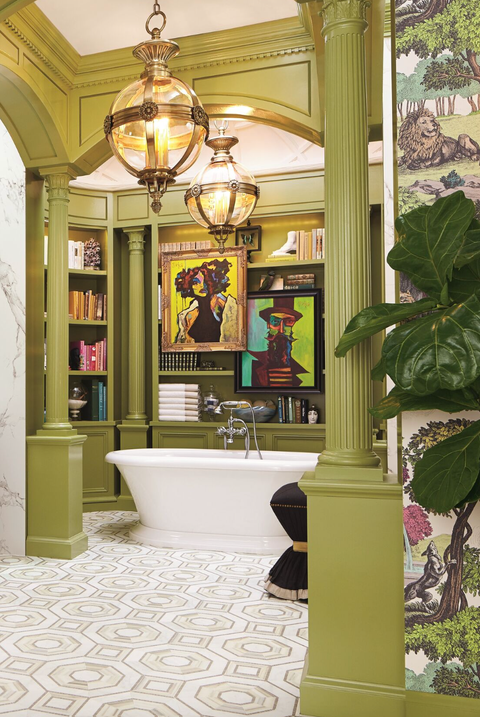 A freestanding tub surrounded by built-in bookcases in this bathroom by Corey Damen Jenkins is a dream for anyone who loves to read while taking a relaxing bath. The Art Deco-inspired tilework, Greek Revival columns and arches, and bold artwork animate the cozy alcove.
8. 

Hang a Bold Chandelier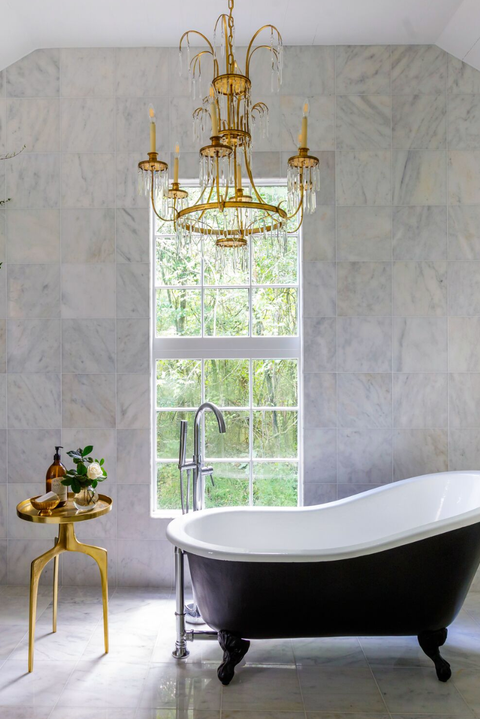 A freestanding tub set underneath a glamorous chandelier is timeless. When placed near a large window with views of nature and surrounded by marble tiles—like in the bathroom of designer Krystal Matthews—it makes for a highly lavish setup.
9. 

Install a Shelf for Decor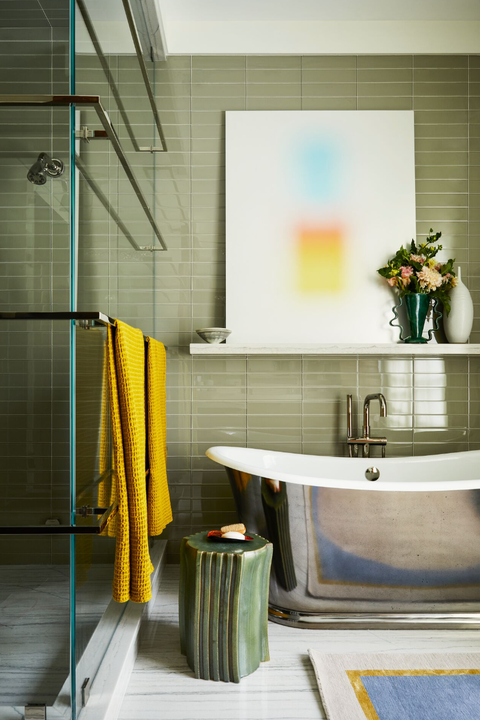 Display large art pieces, fresh flower arrangements, and other treasured decor items on a single open shelf. In this bathroom by Lucy Harris, the decorative accents are set against a backdrop of sage green tiles for a spa-like effect.
- Hometecture Team